common sense construction excellence
"The Clark County Jail Holding Corporation made a decision to entrust them with our $16.9 million dollar jail addition and renovation project and it has been an excellent decision. I personally do not know what we would have done without them."
Veronica Conlin, President
Clark County Jail Holding Corporation
Our Focus on Jail Construction Projects
Our Philosophy
Our job is to provide secure detention facilities that meet the current and future needs of communities and minimize risk for the Owners and Stakeholders.
Jail projects are highly visible, expensive, and frequently politically charged. We help communities determine their current and future needs based on research and recommendations from the Department of Corrections, Local Commissioners, Local Sheriffs, and Consultants who study this industry.
We use thorough communications, planning, and insights into efficient design, materials, and processes to provide correct inmate care and reduce the Owner's operating costs. This is all balanced within the Owner's budget and time constraints.
Pre-Construction
When the team is assembled (Architect, Bond Counsel, Financial Advisors, Consultants, and our Team), we apply our philosophy above to obtain the correct design to accomplish the goals at the most effective cost at the highest quality, on schedule, and within budget.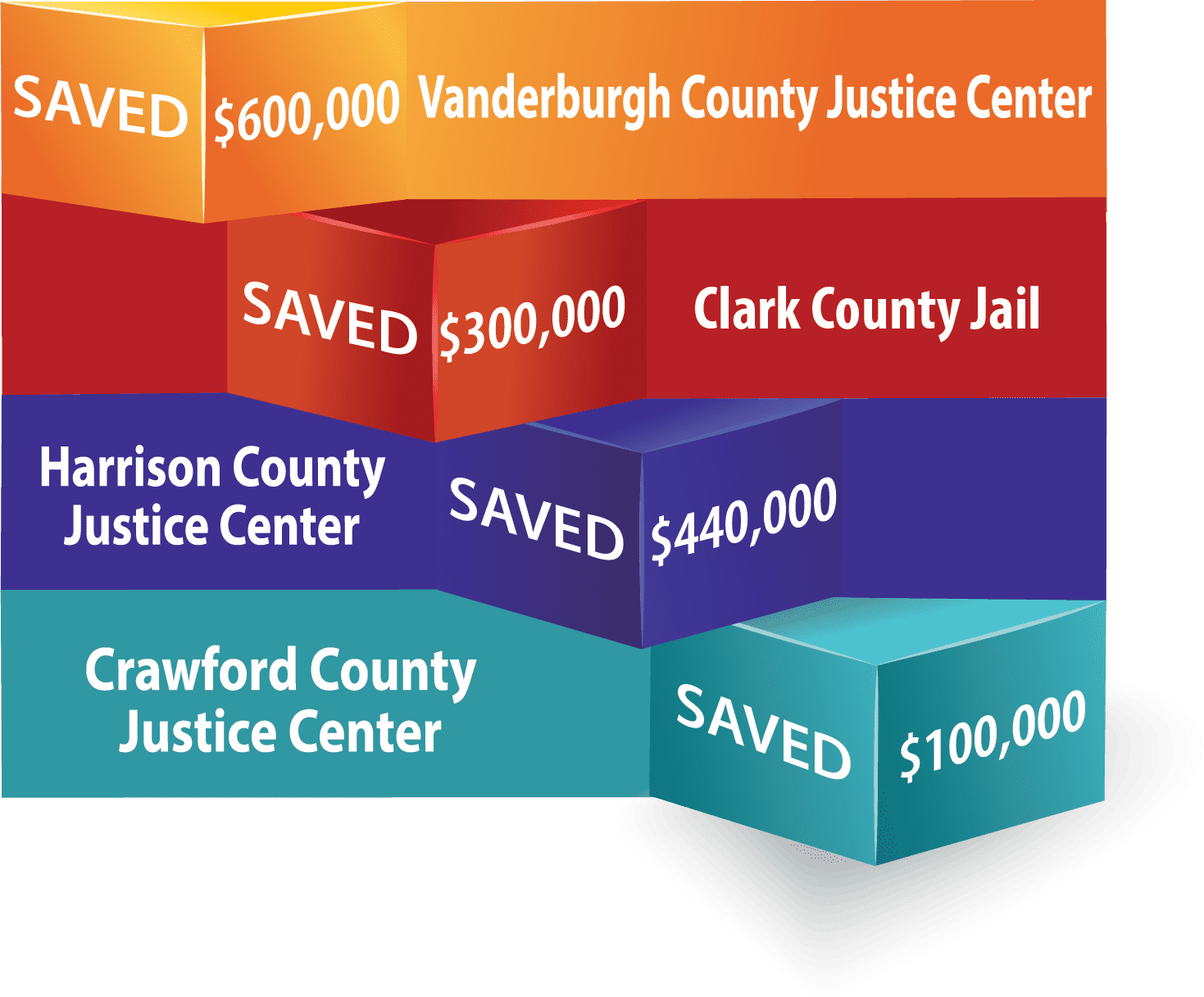 One of our strengths is our ability to think through the process and anticipate issues before they happen. Placement of utilities, materials used, future expansion, avoidance of single-source bidding, and other considerations make a huge difference in budget both at the time of construction and in the future. During the pre-construction phase, we use our knowledge and experience to help prevent oversights and scope creep, saving owners thousands of dollars and lots of headaches.
Construction
We work in concert with the Owner, Sheriff, Jailers, Architects, and all stakeholders to deliver the project as soon as possible at the highest quality and within budget. How do we achieve it? First, we use clear, timely communication and common sense. We keep tight financial controls on every project. As a matter of fact, we have never had a major financial discrepancy at the end of any Shireman CM job. We run a tight, efficient job site with safety as a primary concern. Working closely with local suppliers and subcontractors "keeps it local" whenever possible can keep costs down and create positive PR within the community.
Safety
Every progress meeting leads off with a discussion about safety. All prime contractors and the Shireman team maintain a written safety plan on site. In addition, our project managers are 10-hours or more OSHA certified, meaning they have been independently trained on construction safety and federal regulations. The Shireman team also has CPR and first aid training annually.
Within the specifications book in the bidding documents, we also require prime contractors to have background checks on their workers and an independent drug-testing system. We don't want criminal or physically impaired workers on our job sites, raising the overall danger for everyone. (The criminals can move in later).
Things To Consider When Building a Correctional Facility
When you are getting ready to start a detention center project, there are a few things to consider that can save you money, time, and aggravation.
Obtain input from the Sheriff and Staff plus the Facilities Department during the design phase. These are the people who will be using the facility daily. They will bring very practical insights to the design process. Do the same with Community Corrections.
Do you need classroom spaces to rehabilitate inmates now or in the future? Planning these spaces now will pay off later.
Have you planned for ample parking and a way to have additional parking for future expansion?
Consider mental health services required to serve the inmates. Do you require additional space? Are there location or other requirements that would need to be built into your plan?
Research your community corrections program to seek improvements in funding sources. You should also look for improvements to inmate costs and classifications. Staying on top of and ahead of the game will keep you from having to make costly updates or improvements later.
In the design phase, be sure the products and systems can produce multiple bids. Avoid single-source design components. These can drive up costs unnecessarily.
Create a design that keeps the Owners staffing cost at a minimum. We can help you with this. Bringing in a CM early in the process can save you big dollars and make day-to-day operations for the staff much easier and more efficient.
Indicate on the drawing where the facility can expand in the future and put no major utility services in the path.
Are there alternate correctional methods to keep the inmate population to its minimum?
Involve your CM in the Architect selection process to develop assist in the criteria development and evaluation of your processes.
As your CM, we would review your drawings and specs during design and development and provide our insights into constructability, cost-effectiveness, maintenance challenges, etc. As you will see when you review our project specs, we have been able to save our clients hundreds of thousands of dollars by using our experience and commonsense approach to head off issues before they occur.