Industrial Construction Projects
common sense construction excellence
"All of our questions and concerns were handled efficiently and professionally.  (The Shireman) staff is highly knowledgeable and thoroughly informative about the process they take their customers through."
Robert Howard, Owner
Trevor Huisken, Plant Manager
Howard Packaging, Inc
Our Focus on Industrial Construction Projects
Our Philosophy
Our philosophy on construction is to balance excellent design with the Owner's budget – every time, on time, and at high quality. One of the best ways to do this in the Industrial setting is to utilize precast construction. Precast construction can be customized for the Owner's need but allows for construction to simultaneously occur with site preparation, allowing for a fast-track approach to construction without sacrificing quality or cost.
Pre-Construction
We work with clients to ensure all permits are in place and codes are followed. We carefully study the design to be sure we have considered all HVAC, plumbing, and electrical systems are energy efficient and make sense in the balance of cost versus budget. In this phase, we also consider work and people flow and careful coordination of pre-cast elements and site preparation.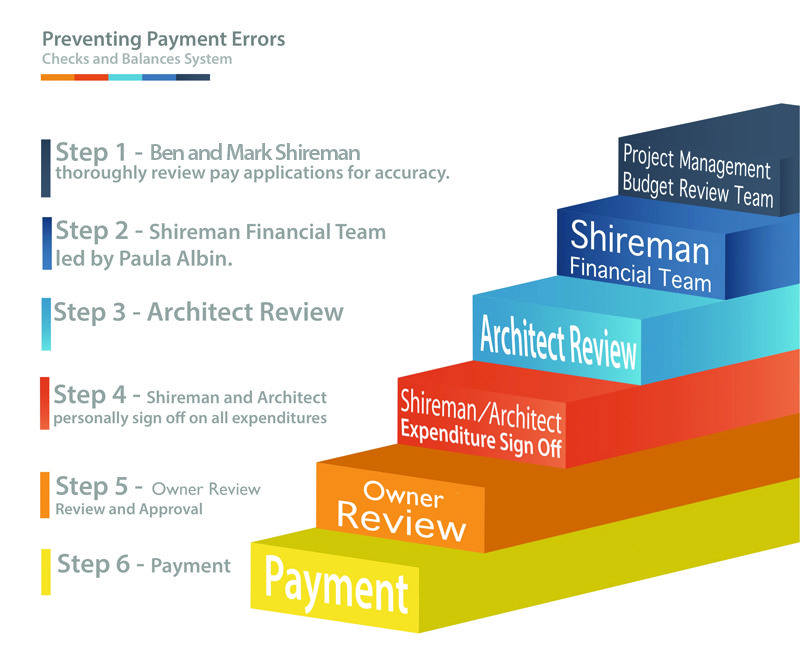 Construction
We will engage the best team of craftsmen and develop protocols to create the highest quality, on-time, on-budget outcome. Anticipating challenges and then mitigating those challenges before they occur is critical and saves time, money, and headaches for the client. We push the progress and manage the communication systems required to deliver the desired outcomes.
Safety
Every progress meeting leads off with a safety discussion. All prime contractors and the Shireman team maintain a written safety plan on site. In addition, our project managers are 10-hours or more OSHA certified, meaning they have been independently trained on construction safety and federal regulations. The Shireman team also has CPR and first aid training annually.
Things To Consider with Industrial Construction Projects
Will your building be tall enough to accommodate new logistic systems for high stacking and robotics? We have consultants who can help you with this.
Locks and doors must be in the correct locations and the correct sizes. Although this sounds common sense, this is something that is frequently overlooked by many.
Have you considered the most efficient logistic operations that will provide ample ability to grow?
Are roads and parking areas properly designed to separate car traffic from truck traffic and allow the trucks to load and off-load effectively?
Plan for growth and do not allow utility services to get into the growth "path."
Plan for the most efficient HVAC and electrical designs to provide the highest energy efficiency to reduce your utility cost.
Have structural systems studied to balance cost versus availability to provide the best bang for the buck.
Think about concrete strength if you change your processes and need a heavier floor in the future.
Review insulation systems to provide the most cost-effective design in order to provide the best energy efficiency.
Let Shireman put our experience to use and design and build the correct facility for you.